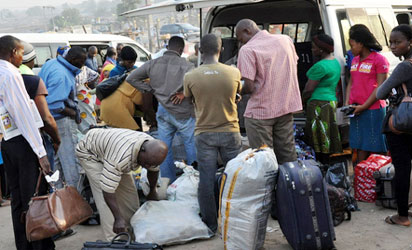 Major transport operators like Chisco, Ekene Dili Chukwu and CN Okoli have indicated that they would not ply the east–north or north–east axis after February 10, 2015.
They fear that a crisis may erupt in parts of the country during and after the Nigeria presidential polls slated for February 14.
Travellers, especially the Igbo living in the north, have been advised to travel before February 11 to avoid being stranded.
Security arrangements being put in place may include declaration of a curfew shortly before the polls, travellers told Eyeway.
Already, many from the east and west have been migrating from troubled parts of the north to their home states. Others from the north have left the south to the north.