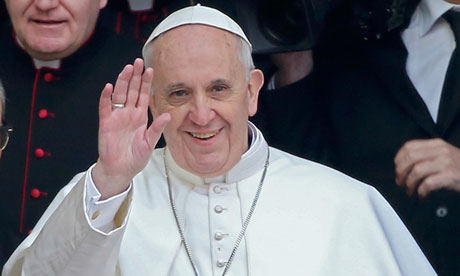 Pontiff uses annual Christmas speech to call for values such as humanity, accountability and humility after year of scandals in Vatican
*
Pope Francis presented the Catholic church's bureaucracy with a list of "needed virtues" including humanity, accountability and humility, following a year in which the Vatican was shaken by a number of high-profile scandals.
The annual Christmas speech delivered by the 79-year-old pontiff was remarkable in one respect: although he acknowledged that some of the "diseases" of the church's ruling body in Rome had been on full display during the year, he struck a far more conciliatory tone before the crowd of senior church officials than last year, signalling a possible softening in his approach.
"Diseases and even scandals cannot obscure the efficiency of the services rendered to the pope and to the entire church of the Roman Curia, with great effort, responsibility, commitment and dedication, and this is a real source of consolation," Francis said.
In what sounded like a pep talk for a beleaguered team in need of some spiritual sustenance, he listed 12 virtues that could serve as a practical aid to church officials.
"Cases of resistance, difficulties, and failures on the part of individuals and ministers are so many lessons and opportunities for growth, and never for discouragement. They are opportunities for returning to the essentials, which means being ever more conscious of ourselves, of God and our neighbours," said the pope.
It was a far cry from the harsh speech he delivered last year, when he issued a scathing critique of the church's highest ranking officials, saying the power-hungry body was consumed by narcissism and that officials were guilty of presenting a hardened, sterile face to the world instead of one that exuded God's love.
The change in tone may have reflected the pope's intention to focus on the value of mercy in 2016, which has been designated a special jubilee year with a focus on that theme.
The address came just two days after a charitable gesture by a former high-ranking church official that brought one of the biggest church scandals of the year back into focus.
The Italian cardinal Tarcisio Bertone, who was the second most senior official during the papacy of Francis's predecessor Pope Benedict XVI, donated €150,000 (£110,000) to the Vatican-owned Bambino Gesù hospital. Allegations emerged this year that Bertone had used hospital funds to renovate his lavish penthouse apartment in the Vatican. He has insisted that he reimbursed the hospital for the work. The allegations, however, add to an image that is in contrast to the one of the "poor church for the poor" that Pope Francis is trying to foster.
In his address on Monday, the pontiff echoed calls he has made in speeches this year for the church to exhibit a greater sense of spirituality and humanity.
"Humanity is what makes us different from machines and robots which feel nothing and are never moved," Francis said. "Once we find it hard to weep seriously or laugh heartily, we have begun our decline and the process of turning from 'humans' into something else."
He also called on the Curia to set an example to others, including by "avoiding scandals which harm souls and impair the credibility of our witness".
The biggest scandal to hit the church this year followed the publication of two books that offered an insider account of alleged mismanagement of Vatican finances, including the saint-making office, which could not account for tens of millions of euros in expenses and had its accounts temporarily frozen.
The other virtues included in the pope's guide were a call for senior officials to be more pastoral in their approach, more reasonable and gentle, more charitable and honest, more open and mature, and more respectful, diligent and attentive.
"Accountable and trustworthy persons are those who honour their commitments with seriousness and responsibility when they are being observed, but above all when they are alone; they radiate a sense of tranquility because they never betray a trust," Francis said.
Source: www.theguardian.com