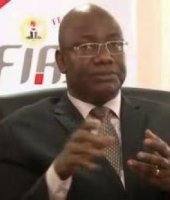 Nigeria's Federal Inland Revenue Service, FIRS, has continued to exceed targets set for it. In the first half of 2015, the agency put N1.8trillion into the public purse.
The acting executive chairman of FIRS, Mr Samuel Sunday Ogungbesan, made the revelation while briefing Senate president Bukola Saraki on the efforts of the agency on Thursday. He said the FIRS could have collected more but for tax evaders and the various challenges confronting the country.
Mr Ogungbesan assumed his new position in March. He succeeded Alhaji Kabir Mashi.