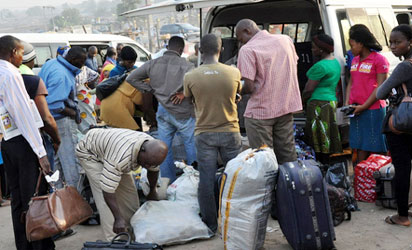 By ANIEBO NWAMU
There is no fuel scarcity this December, but by last Saturday you had to pay N12, 000 to board a rickety bus from Abuja to Onitsha. Those who could fly parted with double the amount they used to pay airlines. High transport fare is the least of the problems, however. The people of the southeast especially have not been deterred: they have travelled in their millions to their villages to celebrate Christmas and the New Year.
Rail and sea transportation would have been the saving grace. But travellers from the southeast can't find either. On Facebook, someone has asked those travelling by road to take the second Niger bridge which they announced had been completed! Had the River Niger been dredged since the late President Yar'Adua commissioned the project in 2007, a trip to Onitsha from Lokoja would have taken less than one hour by flying boat; and the fare wouldn't have exceeded N500. Ditto for a trip from Lagos to Calabar by boat – it would take less than two hours and cost no more than N1, 000.
That's what is meant by visionary leadership. If the right transportation policies had been implemented, it would be possible for one to live in Asaba and work in Lagos or Abuja. I wouldn't live in Abuja if I could travel by speed train from Awka or Aba – the trip would take less than an hour to Abuja. Is it not the reason many Britishers don't live in London? Or why someone would take the train from Paris (France) to Berlin (Germany) – a distance of 1, 055km – with ease?
The Buhari administration, both military and civilian, will forever be remembered for doing one thing: turning most Nigerians away from false life. Civil servants who have three and four children studying overseas are bringing them back or breathing rapidly on account of unpaid school fees. Garages that were hosting 12 and 15 cars are shedding their baggage. Dwellers in highbrow parts of cities are relocating to the outskirts: my friend who used to pay N6m annual rent in Maitama has moved to Suleja where he pays N500, 000. Dried fish has driven beef and chicken away from soup pots. Across Nigeria people are adopting new lifestyles.
It would have been the right thing for a government to do, but for the existence of sacred cows or those immune to the unfriendly downpour. And while the "chosen people" revel in opulence, most Nigerians have not been provided with alternative means of livelihood in a dead economy.
Like everyone else from the east, I would have loved to be in my village with my children. I desire to be reunited with my extended family, to attend several meetings, weddings of loved ones and lots more. When I was a struggling bachelor in Lagos, I used to travel on December 25 or 26 when the roads were free and transport fares had crashed. It seems many Ndigbo have discovered the trick and now travel after Christmas: as a result the fares refuse to come down until after New Year's Day, obviously because transport operators have also been watching the trend and have been seeking to maximise profits. The hunters have learned to shoot without missing, and Eneke the bird has learned to fly without perching on a twig.
I can't afford to waste N250, 000 on air tickets or N130, 000 on bus fares in these "Change" times. And I've since chosen to not drive with my family on the dilapidated roads to the east. Besides, I'm aware that road marshals or policemen are all over the east, not to ensure road safety but to extort motorists. Then, you have to worry about armed robbers and kidnappers. Why take an avoidable risk?
Unlike the biblical wise men from the east who went seeking the baby Jesus, the men from the east of Nigeria take foolish risks on overcrowded roads. The story, which will be told in churches worldwide today, is instructive: At the direction of an angel, the wise men found the would-be saviour of the world born in an animals' shed. On their return trip they were directed to take another route to avoid Herod. Moral: Nigerian easterners should learn to leave the city early or late, not during rush hours, to avoid their shylock brothers (transport operators).
The storyalso reminds us of the oneness of man: the biblical wise men from the east were likely Arabs! Yes, God first chose Arabs (whose progeny today are non-Christians) to seek out the founder of Christianity. And we shouldn't forget that the two great religions took their roots from the Middle East.
Another irony: Christ was born in present-day Palestine – in Bethlehem of Judea. Palestinians are predominantly Muslims. Their enemy, Israel, is composed of not even Christians but Judaists. So, those who fight wars or murder their fellow beings in the name of religion don't even understand what their religion preaches. We are one nation under God. Ignore the politicians who strive to divide us in order to steal from us.
I miss palm-wine. Until city people discovered the treasure hidden in this holy drink, you could drink it to excess without knowing it. Now, all marriage, birthday, funeral and other ceremonies are incomplete without palm-wine, sending the price sky high. This is a time for tappers to make a killing. In October, a litre [we now measure everything in litres] of it used to cost about N250. Today in the east, you would be lucky to get it at N750. Reason: everyone is asking for it. Only when it's not available do merry makers resort to the familiar concoctions labelled as beer and stout.
Wise people do not make promises they cannot keep. As a city dweller, you are invited to all occasions, including fundraisers. If you pledge to donate N2million, make sure the N2million is already in the bank. And while you spend lavishly, remember that school fees will be paid in January – the longest month of the year. Don't overspend.
Nevertheless, no-one would fail to help the less privileged during this festive season. All around us is crippling poverty. Most villagers (even in the southeast) need help. But, alas, many of them are better off than most of the urban poor who live in shanties, drink polluted water and pay high rents. The villagers live more happily.
A piece of advice for people in their 60s and 70s who cling to the cities: Consider relocating to your village after this season. It's true that jobs are not found in villages, but the jobs don't exist in the cities either. City dwellers pay taxes of every description: water rates, power tariffs, environmental sanitation fees, transport fares, high food prices, house rents, and now high fuel prices and tollgates. The augury for 2019 is not pleasant at all.
Christmas is best celebrated in the heart. I won't fail to give our people hope, for God has been kind to us Nigerians. Something tells me that better times are ahead for the upright, and God will always intervene in the affairs of men. Let's love one another. The poor and the needy, whether they are Christians or Muslims, need help. Those who indulge in vices like drunkenness, illicit sex and dangerous driving in the name of Christmas are celebrating crime, not Christmas.
On this day of joy, I felicitate with all Christians and non-Christians alike from the east, west, north and south. The people who wandered in darkness have seen a great light! This joy and peace can elude only foolish people – those who ignore the rules for happy living.
Merry Christmas, my fellow compatriots!
25-12-2018
Connect with Aniebo: +234-8054100220 (SMS/WhatsApp only)