From the outset, Eyeway Publishing described itself as a media and education company. It opens the second wing of its mission, from May 30, with eLearn Writing Course. Through the four- to six-week programme, participants will be taken through the rocky road to professional writing in the English language. The course has arisen from popular demand – from journalists, blog writers and book authors who wrestle with grammar and punctuation every day; from business executives and public servants desirous of writing winning proposals, memos and reports; and from students, graduates and general learners who lose marks to poor communication in their class work, external exams and job interviews. Get your adult children to subscribe for this course and you would be offering them a priceless gift.
The course content of eLearn is being developed by world-class authorities on English communication drawn from all corners of the globe. Eyeway is coordinating the programme from Nigeria.
Need we say more? The encircled "e" (resembling the human eye) in our logo represents not only electronic (magazine) but also excellence, education and eyeway.
Subscription is for free. Lectures for the first week are also free. Thereafter, the participant would decide to continue or not: we'll request a token fee – between $50 and $100, depending on each person's category. Course papers will be read/delivered on phones, iPads, tablets, laptops or desktops. A face-to-face seminar where participants will meet their instructors may also follow other interactive exercises on the web.
A certificate at the end of the course? Sure – for those that want it.
One can subscribe in one of three ways: (1) click on SUBSCRIBE on the promo ad above; (2) indicate your full name, phone no., email address, your country and category/workplace in an SMS sent to +234-09035640635 or (3) email sent to eyeway4elearn@gmail.com.
Subscription has started already. It's another game changer from the masters of English prose!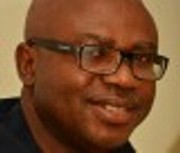 ANIEBO NWAMU
Executive Editor
***