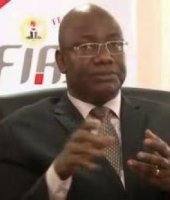 Bad news for tax evaders: A new head of tax collectors is in town – a man who, just a week ago, was the coordinating director, Standards and Compliance Group of the Federal Inland Revenue Service (FIRS).
Mr Samuel Akin Ogungbesan played a major role in the review of Nigeria's tax laws in 2005. In his new capacity as acting executive chairman of FIRS, he is likely to pay even greater attention to improvement in the tax administration system in Nigeria. Tax dodgers, beware!
With the dwindling price of crude oil, FIRS under Ogungbesan's leadership will certainly come under pressure. The tax-collecting body now has unusual interest in non-oil taxes. These include the companies income tax, value added tax, personal income tax, withholding tax, education tax, stamp duties, capital gains tax, and National Information Technology Development Fund levy. Then, there are the levies recently imposed by finance minister Ngozi Okonjo-Iweala on private jet owners and possessors of other luxury items.
Mr Ogungbesan comes into the new office well prepared. As a key player in the regime of Alhaji Kabir Mashi, he is likely to continue the progress made in tax collection for the past three years. During the change of baton on Wednesday, outgoing Mashi said the Service operated like a family. And his successor Ogungbesan said he would always need Mashi's help.
Is it true that nobody likes to pay tax? Well, it won't be easy to escape now. The new chief of tax collectors is coming from the compliance department.
— By ANIEBO NWAMU